Pilgrimage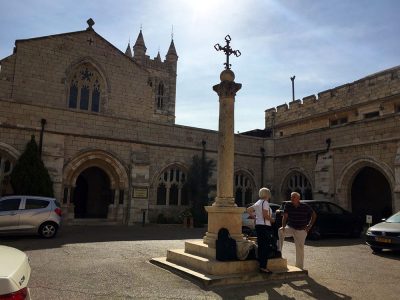 "After almost two years of the absence of pilgrims, Jerusalem is not the same. I miss greeting people at the Cathedral. I miss greeting pilgrims who come from around the world to be with us, the Living Stones. We become more alive by the visits of people who come to join us in worship. They come to join us in mission and they come to join us in living out our Christian faith in the place where it happened."
The Most Rev. Hosam Naoum, Archbishop of Jerusalem
A pilgrimage to the Holy Land is a different experience for each visitor. Most returning pilgrims agree that it is not a vacation and that you will never view the Middle East, your faith journey, or the world in quite the same way.
After nearly two years without travel, many pilgrimages are planned for 2022.
Pilgrims find it awe-inspiring to see where Jesus lived, taught, died, and rose again.
And by meeting and getting to know the people who call the Holy Land home, you'll discover that your heart is changed and you recognize a responsibility to support them both spiritually and materially.
Pilgrims who visit the humanitarian institutions of the Diocese of Jerusalem and worship in an Anglican church with our Palestinian Christian brothers and sisters often tell us that these experiences were highlights of their pilgrimage.
Below are two tour operators that offer guests a chance to visit a diocesan parish for worship as well as one or more of the humanitarian institutions owned and operated by the diocese. Their websites explain more about their trips and a list of upcoming pilgrimages you might join. Both are long-standing and generous friends of AFEDJ and the Diocese of Jerusalem.
Lightline Pilgrimages: http://www.lightlinena.com/
Qumri Pilgrimages: https://www.iyadqumripilgrimages.com/
---
In addition to pilgrimages, many people are drawn to educational opportunities for clergy and lay people at St. George's College located on the campus of St. George's Cathedral in East Jerusalem. Visit its website for a schedule of upcoming classes in 2023 and beyond.
Need photos or videos to share the story of your pilgrimage once you arrive home? Visit our photo library and our video library.
Need technical assistance in developing a presentation?
Contact AFEDJ Communications Director Heidi Shott at hshott@afedj.org. She can help!