Signs of Hope for the World to Come
December 18, 2018- Posted in Education, Jordan, Pilgrim Stories, Pilgrimage, Sermons
The Rev'd Matthew Dayton-Welch
November 25th, 2018
Saint Alban's Episcopal Church, Newtown Square
The Feast of Christ the King (John 18: 33-37)
Pilate entered the headquarters again, summoned Jesus, and asked him, "Are you the King of the Jews?" Jesus answered, "Do you ask this on your own, or did others tell you about me?" Pilate replied, "I am not a Jew, am I? Your own nation and the chief priests have handed you over to me. What have you done?" Jesus answered, "My kingdom is not from this world. If my kingdom were from this world, my followers would be fighting to keep me from being handed over to the Jews. But as it is, my kingdom is not from here." Pilate asked him, "So you are a king?" Jesus answered, "You say that I am a king. For this I was born, and for this I came into the world, to testify to the truth. Everyone who belongs to the truth listens to my voice."
Amman is a city thousands of years old, nestled among nothing but the deserts of Jordan, littered with Roman-era ruins and the residue sprawl commonplace in any city in any part of the world with four million people. It is cosmopolitan in places and congested nearly everywhere; it is the jewel of Jordan.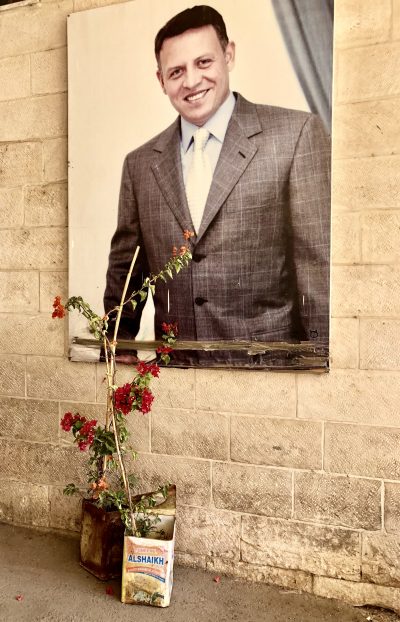 Zarqa, fifteen miles to the east, is not. It is a relatively new city, settled by Chechen refugees not even a hundred years ago, and it is also crowded but with industry; fifty percent of the country's factories are located here, along with a heavy military presence and a little more than half a million people. Zarqa feels like another world—a more depressed world, a more theologically-conservative world, without the attention Amman gets.
There in the center of the city is St. Saviour's School, a ministry of the Episcopal church in Jerusalem, whose diocese includes Jordan. The school is a full-service K-12 operation providing quality education to the city's most hopeful. It is the only school to educate girls and boys together in Zarqa. And it is wonderful.
The faculty and staff are excited about the work ahead of them, and the children were excited to attend. You could see it on their faces; these were happy kids. And there in the center of the school—whose students were nearly all Muslim—sat an Episcopal church, its cross mounted adjacent to a basketball hoop. It kept watch over the whole affair.
Well, actually, there was another presence that kept watch over the whole affair. Off to the side of the school entrance hung a nearly life-sized portrait of the King of Jordan, Abdallah al-Thani bin al-Hussein. The portrait is friendly if not a little faded, and at its feet sat a small offering, a bougainvillea plant potted in an old metal tin that used to contain cheese. The tin was rusted, and the plant was little unkept, and the whole shrine was sweet in its own way, if not a little odd to this American.
Now I should say I happen to like King Abdallah. He's on the young side, educated in the U.S. and Great Britain, and he has a friendly demeanor. The only time he's in military uniform is when he is serving alongside his troops, with whom he regularly trains.
Abdallah's family claims descendance from the Prophet Mohammad, and that is important to their claim to the throne, but Abdallah's family has also been tremendously gracious to the churches which operate in Jordan and in Jerusalem, to which the family still holds historic claim. Abdallah has invested in the demining efforts around the baptismal site along the Jordan River; two years ago, he contributed substantially to renovation efforts at the Church of the Holy Sepulchre in Jerusalem. The Episcopal archbishop in Jerusalem communicates with his office regularly.
Abdallah also has one of the most challenging jobs in the world. Historically Jordan has straddled many different worlds; the liberal Western worldview and the conservative Islamic worldview. Its neighbors are Saudi Arabia, Israel, Palestine, Iraq, and Syria, so, let's just say, not the easiest neighbors. It has very little oil from which to draw and hardly any other natural resources to exploit. It's taken in refugees for as long as anyone remembers; it welcomed nearly a million Iraqis during the Iraq War, and it's welcomed 1.4 million Syrians as a result of the Syrian civil war. Nearly a quarter of its citizenry are Palestinian.
Abdallah has to hold all that together. He'll meet with President Trump one month and the Ayatollah of Iran the next. Somehow, in a region where military coups and assassinations are commonplace, Abdallah has survived.
Of course, he's learned a great deal from his father. King Hussein had the charisma of Omar Sharif and a smile as wide as the sand dunes he ruled. He was a commercial airline pilot, often flying himself on diplomatic adventures. He brokered an impossible peace with Israel that still stands to this day.
Legend has it that Hussein, at night, would drive a taxicab around Amman, disguising himself and asking questions of his patrons, "What do you think of the king's policy on this and that, and what do you think of the king?" He never thought those around him gave him the full picture of what life was like in the kingdom—in his kingdom—and so he would ask his subjects directly, "What do you think?" as if to echo Christ himself, "Who do people say that I am?"
And Peter said, "Some say John the Baptist and others say Elijah; and still others, Jeremiah, or one of the prophets."
And Jesus says, "But who do you say that I am?
And Peter responds with a smile like he's in on the secret, "You are the Messiah, the Son of the Living God."
That was such a risky exchange for them both, Jesus and Peter. Jesus was laying claim to an authority that was far greater than any authority that rested on this earth, and that claim would put him in direct conflict with the rulers of that world who decided who thrived and who starved, who was educated and who was imprisoned, who lived and who died. Peter was not only saying that Jesus was the ruler of this world but also of the next, of the life to come, a private exchange in the rural Galilean mountains of Palestine, so far removed from Rome, and yet a confession whose truth would change the course of the world.
And it did come back to bite them both; here he stands before Pontius Pilate, the Roman governor who has no particular interest in Jesus one way or the other.
Pilate is trying to figure Jesus out, and Jesus isn't making it very easy. Pilate, I'd argue, has one concern: is this man a threat to the Roman Empire. So he asks him, "Are you a king?" and Jesus gives him a cagey answer, and the two go at it throughout the lesson.
We know how it ends. Pilate gives in to the demands of the Jewish leaders, who willingly subjugate themselves to the Roman authorities, and he hands Jesus over to be crucified. It's all over within a matter of hours.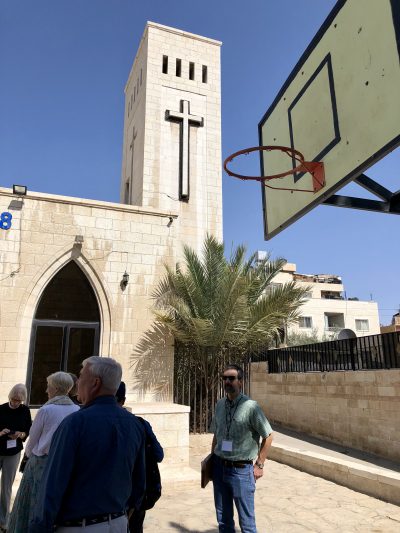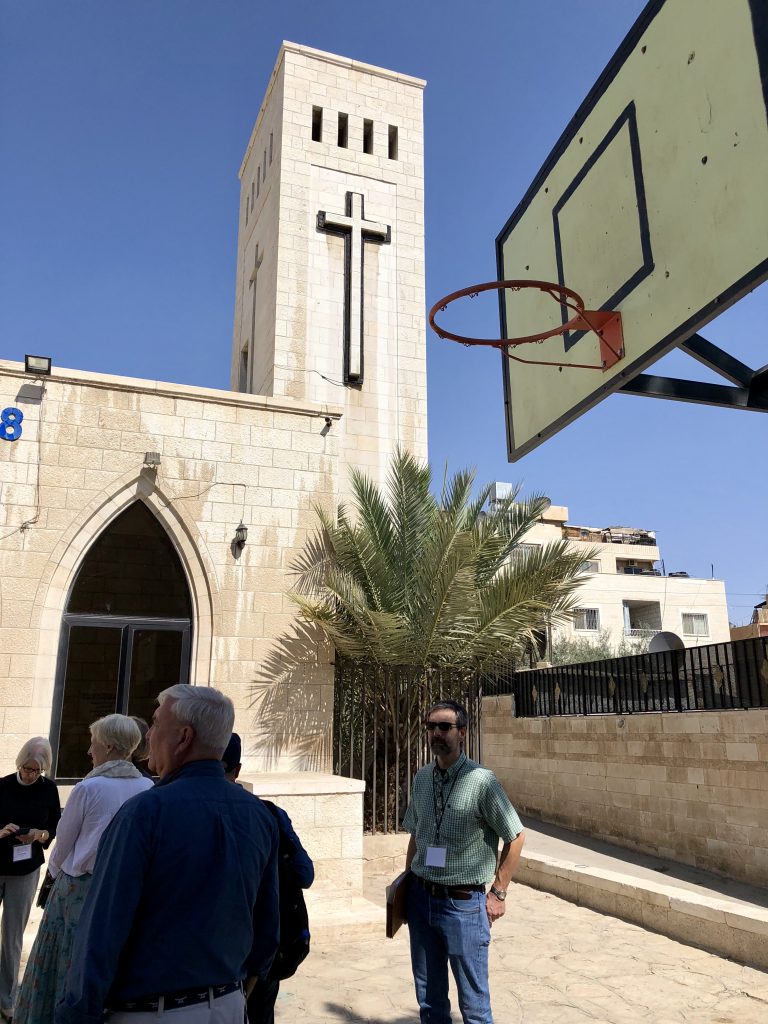 What stood out to me so much about that photo of the king at Saint Savior's School in Zarqa was how the leaders of the school straddled the impossible, honoring both the king of this world—or at least the king of that world in Zarqa—and the king of a greater world, represented by the cross adjacent to the basketball hoop. One was obligatory. There are photos of the king and his father and his heir everywhere—in restaurants, hotel lobbies, schools and government buildings—always there to remind you that they are in charge and you are not. Abdallah is the king, benevolent though he may be, and you are subject to his authority and whim. The photo and the bougainvillea in the cheese tin were there to recognize that authority.
One sign was obligatory; the other was hopeful. The cross represented everything that this world can be and not necessarily what this world is. It represented a love and a peace and a justice that passes all understanding and made evident in this gospel, "For this I was born, to testify to the truth,"—made evident to the faculty and the students, most of whom would know Jesus not in Holy Scripture but in the way in which his followers demonstrated that love and peace and justice to the world around them.
One sign acknowledged the altruism of good leadership, rare though it may be. The other sign demonstrated the selflessness of a God who came into this world to be just like us, to suffer and die just like us, and in his glorious authority, to seam together this life with the next, so that we might never have reason to fear but always be hopeful for the eternal life to come.
Perhaps that's the takeaway for us on the Feast of Christ the King. There are authorities in this world, and that's okay. Some of them are good and some of them are not so good. Some seek to hold together many competing forces, and some seek to draw those forces into combat. Most are in the middle. And we're subject to them. In this country we have the freedom to elect our government, and so we have a say in how we chose to be led.
We exercised that recently in our elections, which itself was a national conversation about the direction in which we choose to go. And now we are subject to the laws that will be passed by those whom we have elected.
But all of this—be it democracy in this nation or an absolute monarchy in Jordan—all of this is of this world. Our calling as Christians is not to decide which forces in this world represent the Gospel, because no force perfectly can.
Instead, our calling is to look upward at the throne that is greater than any authority in this world, to recognize our place under the throne, and to reflect the agenda of God into this world so that those who hold authority now might be influenced by the hopeful vision of the world to come.
The school in Zarqa paid its homage to the king, as it was right to do, but its focus—the literal center of the campus—was the cross adjacent to the basketball hoop, whose shadow gave comfort to the children playing below. May our cross, wrapped in gold leaf and affixed to the top of this church, likewise draw our eyes upward to the throne, so that no matter whatever happens in this world—be it in Washington, or the state capitol, or just down the street at the county court house—we may never forget the King to which we are all accountable.
The Rev. Matthew Dayton-Welch is an AFEDJ trustee and rector of St. Alban's Episcopal Church in Newtown Square, Pennsylvania.