Unafraid and Ready to Heal
December 3, 2018- Posted in Gaza, Healthcare, Palestine, Pilgrim Stories, Pilgrimage, Sermons
Sermon by the Rev. Matthew Dayton-Welch
November 18, 2018
Saint Alban's Episcopal Church, Newtown Square
Mark 13:1-8
As Jesus came out of the temple, one of his disciples said to him, "Look, Teacher, what large stones and what large buildings!" Then Jesus asked him, "Do you see these great buildings? Not one stone will be left here upon another; all will be thrown down."
When he was sitting on the Mount of Olives opposite the temple, Peter, James, John, and Andrew asked him privately, "Tell us, when will this be, and what will be the sign that all these things are about to be accomplished?" Then Jesus began to say to them, "Beware that no one leads you astray. Many will come in my name and say, 'I am he!' and they will lead many astray. When you hear of wars and rumors of wars, do not be alarmed; this must take place, but the end is still to come. For nation will rise against nation, and kingdom against kingdom; there will be earthquakes in various places; there will be famines. This is but the beginning of the birthpangs."
We left early in the morning, just as the sun was beginning to peak over the Mount of Olives and beam down iridescent orange on to the parking lot of St. George's College in East Jerusalem. We knew it would take us about two hours to get to Erez Checkpoint, and then God knows how long once we got there. We sat in the bus, largely in silence. The board of the American Friends of the Episcopal Diocese of Jerusalem had overnight shrunk by half, it seemed, as eight of my colleagues came down with food poisoning; the rest of us felt eerily unprepared.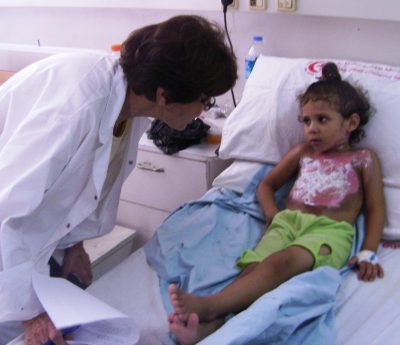 I had been to the Gaza border before, but I had never made it in. In that sense, Gaza was this mythical place for me, a strip of land on the Mediterranean coast about 100 square miles in livable land occupied by about two million people who cannot get out. In 2006, the people there elected the terrorist organization, Hamas, to govern them, and since then the place has been the epicenter of one of the worst quagmires the modern world has known—the world's largest open-air prison—and a perpetual humanitarian disaster.
Israel built a checkpoint called Erez on the northern border with Gaza, and they built it with the intention that it would handle a fairly large volume of day traffic, so it looks a bit like an airport terminal. But the day we visited, it seemed like we were the only ones there, and the terminal now had this post-apocalyptic vibe. We walked into a large glass hall and called out for someone to instruct us, and eventually someone did—"go through that gate there"—and the process began.
I had heard so many awful stories from people who had made this journey before—interrogations and strip searches and last-minute visa revocations—but what struck me most was how little that was our experience. The border guards were friendly and polite, which added this strange veneer of legitimacy to something on the whole remarkably unjust and inhumane, the caging of one people by another. When we passed through, we were met by a Hamas bus driver—big, warm smile, "Welcome to Gaza!"—and we were in.
The Hamas checkpoint was something out of a movie. It was more of a military outpost, really, with hand painted camouflage on concrete barriers topped by tattered mesh netting, and men in mismatched uniforms, Soviet-made machine guns on their shoulders, smoking cigarettes and killing time.

I stood there in my collar—part witness to the love of God in Jesus Christ, part fish out of water—and each of them greeted me, "Abuna," which is something like, "Morning, father." I thought of you all in that moment, my wonderful Saint Alban's, just how much I love what we have here, and how very far away from it I was.
The drive to the hospital was surreal. It was dense and crowded, and busy too. Lots of school kids in uniforms—that surprised me—but the bombed-out buildings did not. I got the sense this was once a gorgeous city of some wealth, but the gilding was replaced with time and soot and the kind of ash that clouds the streets when the rockets strike, and the buildings fall.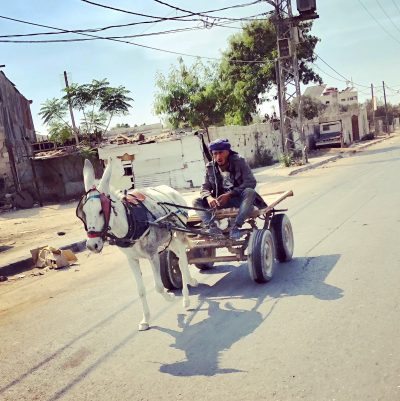 I saw more donkeys than I had ever seen since fuel is so expensive, and in the center of every street intersection was a Hamas billboard, littered with pictures of their dead superimposed over prized rockets. I imagined all this being 30 minutes from the beaches of Tel Aviv, and how hard it will be for all this to reconcile.
In the middle of all this chaos—all this humanity trying to blossom in spite of all this inhumanity—sat the Al Ahli Hospital, which we had come to visit. Al Ahli is the only non-politically affiliated hospital in Gaza, its oldest hospital, and the only one operated by the Episcopal church in Gaza—or by any church, for that matter. It is our witness to God's healing love in the midst of its surroundings.
And it looked like heaven. The street trash outside was replaced by gardens inside, where moms and their kids sat down to enjoy makeshift picnics.
The hospital is managed by an elegant woman, late in years, and the last living Episcopalian in Gaza, or at least so the legend goes. Suheila's faithfulness was like something I'd never witnessed before. "All my family lives in the U.S., and they ask me all the time when I'll move there, and I tell them, 'Only when my work here is finished.'" Each day her hospital provided near full-service care to those who need it, free of charge. They now operate the only mammogram machine in Gaza—one machine for two million people.
Their clinic for underweight children reminded me that we don't even have that problem in the U.S., and yet the day we visited, the room was crowded with parents and small children. Small children. I met a young boy who at six months old weighed only nine pounds. But I saw some healthy kids too, returning for checkups. One such kid sat proudly on the knee of his father, who, looking at us, pointed to the doctor and made one of those chef kiss expressions.
Most of the hospital is dated but there at the front is a tall glass building, bright blue glass, and I couldn't help but imagine how bold one would have to be to build a glass high rise in Gaza. It was as if Michael the Archangel himself sat atop it, waving off any impending destruction.
"This is our ministry of healing here," Suheila said. "Gazans know our compassion and they know we are serving them through the love of Jesus." But she said she imagined things getting worse. She said she remembered the time when Gazans could travel freely in Israel, many of them working in Tel Aviv and Ashkelon, and there were political challenges but not the societal hatred so commonplace now.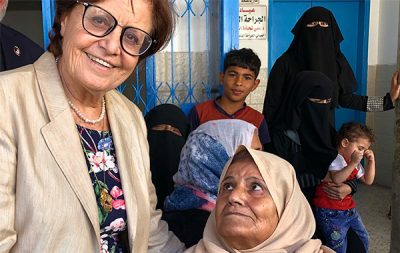 She said she feared for the next generation that only knew Israelis as mythical oppressors and not as people. "But there is still hope for the oppressed," Suheila said. "That is what Jesus tells us. And that is what keeps us going."
And Jesus does, indeed, say that. He says it on the Mount of Beatitudes: Blessed are those who hunger and thirst for righteousness, for they will be filled. He says it throughout his ministry—in words and actions—healing the oppressed even when it got him in trouble.
And now here he is in this morning's Gospel lesson, walking through the Temple complex with his disciples, staring at the majesty of it all. His disciples admire its grandeur, and Jesus scoffs. "Do you see these great buildings? Not one stone will be left here upon another; all will be thrown down." We can imagine what a jarring buzzkill of a response that would have been. "Geezus, Jesus, we were just admiring the architecture."
But Jesus continues, "When you hear of wars and rumors of wars, do not be alarmed; this must take place, but the end is still to come." In a sense, my friends, things will get worse. "For nation will rise against nation, and kingdom against kingdom; there will be earthquakes in various places; there will be famines. This is but the beginning of the birth pangs."
And things do get worse. Jesus is arrested and beaten, and crucified, and his disciples hide out in fear that Passover, and even when he is resurrected, they still fear what is to come. Years later, many would die brutal deaths of their own, and the stones of the Temple would come crashing down, just like Jesus said.
Christianity went into hiding for hundreds of years—the Jews in exile for nearly two thousand years more—and Jerusalem became a backwater outpost of the Roman Empire. And this was just the beginning of the birth pangs, pangs we still feel all too often today.
Suheila said a great deal during our visit about the hope of God, and the importance of all of us to share that hope with the world. But all the more important was what she did not say. She said nothing about quantifying the results of her hard work, a return on her investment. She made no correlation between the quality of her faithfulness and the world around her. She did not hinge her hope in God on whether or not the situation in Gaza improved.
Instead, she knew that if things got worse, that would make all the more important Al Ahli Hospital's ministry to those that suffer. The worse it got around here, the more prescient the healing hope of Jesus becomes. "Medicine is the means," she told me, "but the product here is hope."
And things did get worse. In the weeks since I was there, the situation between Hamas and Israel escalated, and this week brought about the worst violence in several years. Hamas fired hundreds of rockets into Israel, and Israeli forces responded with rocket-and-mortar fire that killed at least seven. "This is but the beginning of the birth pangs," Jesus says.
But the Christian life is greater than any birth pangs. That's what we know. There are questions about how all this religion works, to be sure, and we call that the mystery of faith: what is baptism and how does the Eucharist work; what happens when we die, how will the world continue on without us and when will it end.
But I stand here this morning to assure you this: the love of God made real and human in the person of Jesus Christ is greater than any suffering we know now or will ever know. I think that's why I am a Christian and sign on to all this: I don't need a God who makes it all go away; I need a God who is fully aware of how bad it can get and is unafraid to join us in that.
And he does. When things get worse, Jesus is still there. When things get so bad that we die, Jesus is there. He paved the way through his own suffering and death so that he would be our advocate through our own trials, and resurrection would be our everlasting prize.
His love endures beyond whatever this life will bring. Our calling, therefore, is to trust in that love, and to share that love with those around us—to keep a faith broad and long that sees past the present day and never forgets the hope that Jesus promises will come beyond the birth pangs.
When we do that, then our faithfulness will stand as proud as a glass hospital in Gaza, unafraid and ready to heal.
The Rev. Matthew Dayton-Welch is an AFEDJ trustee and rector of St. Alban's Episcopal Church in Newtown Square, Pennsylvania.