About Bearing Witness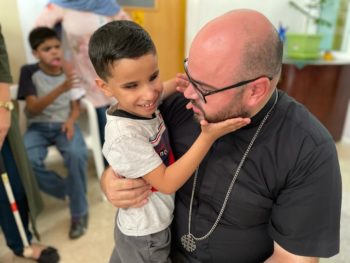 Palestinian Christians are part of the unbroken Christian presence in the land of Jesus going back to the first church. The Episcopal Diocese of Jerusalem is a vital part of this indigenous Christian community in the Holy Land, sustaining 27 parishes and more than two dozen humanitarian institutions across five countries. Through their faith, resilience and humanitarian outreach to people of all religions, ethnicities, and economic circumstances, these Palestinian Anglicans bear witness to Jesus today in a region of conflict, brokenness, and distrust.
Bearing Witness is your opportunity to learn about the realities of life in the Holy Land today and the impact and influence of the small, dwindling Christian community who live, worship, and minister in the place where Jesus taught and healed.
In Bearing Witness videos, filmed on location in the Middle East, you'll hear every-day Christians, Muslims and Jews describe life in Israel and the Occupied Palestinian Territories of East Jerusalem, the West Bank and Gaza. They share their personal stories and struggles to establish a sense of belonging in a region of confounding political, religious and cultural complexity. They express their fears for the land they love and their hopes for a future where all can live together with dignity, freedom and security.
Bearing Witness is a free, small group learning program that provides church communities and faith-based organizations the biblical basis, the inspiration, and the tools to walk together with Christians in the Holy Land. The program inspires us to seek ways to connect with and support the courageous ministry of the Diocese of Jerusalem and its witness to Jesus in the cradle of Christianity.
All Bearing Witness videos and resource materials are offered to all online and at no cost.
Upcoming Facilitator Trainings/Information Sessions are scheduled for the late summer and fall. Sign up here to register or be notified of upcoming sessions.
---
Bearing Witness was produced in partnership with the Episcopal Diocese of Jerusalem, the Episcopal Church Standing Commission on World Mission, Jerusalem Peacebuilders and with financial support from the Constable Fund of the Episcopal Church, Carol and David Myers, and anonymous donors.
HOW YOU CAN HELP Your ongoing generosity allows AFEDJ to provide continued support for the Bearing Witness program at no cost to you. Your donation builds hope, nurtures resilience, and transforms lives in the Holy Land, sustaining the vital efforts of the institutions we serve throughout the Episcopal Diocese of Jerusalem. Please make a gift today.