Afedj Donors Take The Lead On Rebuilding Ahli Hospital's Outpatient Clinic
February 15, 2019- Posted in Gaza, Healthcare, Palestine, Supporters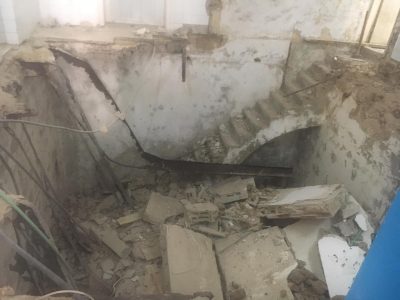 When the outpatient clinic at Ahli Arab Hospital in Gaza collapsed into its foundation in early December, it seemed like the culmination of anannus horribilis for the 120 year-old institution.
Clashes at the border and deep unrest in Gaza last spring, the effects of U.S. cuts in aid to the UN agency that serves Palestinian refugees, and the total failure of the hospital's aged water system in November together rained down on Ahli in a perfect storm. And then the outpatient clinic building crumbled to dust.
Suhaila Tarazi, director of Ahli, expressed gratitude that no one was injured in the collapse. Since then, patients continue to receive treatment from medical professionals, though at a slower pace in crowded hallways and temporary conditions.
The high demand for the clinic's free healthcare services – clinicians see more than 500 patients each month – left no question that the clinic needed to be rebuilt. A preliminary engineering study completed shortly after the collapse indicated a cost of $170,000.
Thanks to the ongoing generosity of AFEDJ donors, we were able to provide well over half of the funding – $110,000 – to rebuild the clinic. Funds raised by the Episcopal Diocese of Jerusalem from other Anglican and international partners has added an additional $44,000. The AFEDJ Board of Trustees designated funds in reserve, and Episcopal Relief & Development pledged to provide up to $20,000 to meet any gap between funds raised and the total cost of the project.
With the necessary funding in place, rebuilding of Ahli's outpatient clinic will begin as soon as a detailed construction plan is in place.
Because of your gifts, hundreds of families in Gaza City and outlying towns will continue to receive the quality care provided by Ahli Hospital.
Thank you to all.