American Friends to seek new executive director as John Lent announces retirement
March 18, 2022- Posted in AFEDJ, People
John Lent, executive director of the American Friends of the Episcopal Diocese of Jerusalem (AFEDJ), has announced that he will step down at the end of 2022 after seven years with the organization. Lent, a lifelong Episcopalian, came to AFEDJ after a career in educational publishing and nonprofit leadership, his interest spurred by a trip to the Middle East.
"My work with American Friends is the most fulfilling work I've done throughout my career," Lent said. "It's a great honor for me to lead an organization that is devoted to helping advance the important work of the Diocese of Jerusalem. I am blessed to count so many wonderful Christian sisters and brothers in the Holy Land among my friends and will continue to devote myself to supporting the Christian presence and work in the Holy Land. I am deeply grateful for the friendship and generosity of the thousands of Americans who are committed to our shared mission in the Holy Land."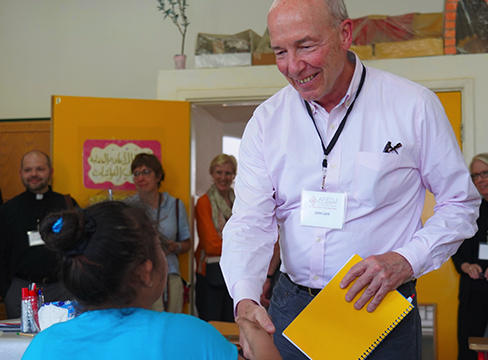 Board Chair Bishop Greg Rickel of the Diocese of Olympia said of the announcement, "We have been blessed by the competence, creativity, and dedication John has brought to American Friends". Rickel added, "Under his leadership AFEDJ has become a stronger and more focused organization that is poised to greatly expand awareness of the humanitarian ministries of the Diocese of Jerusalem. That bright future is possible because of John's work. We are sorry to see him depart but will remain grateful that he has shared his considerable gifts in support of the remarkable ministries we serve."
The Most Rev. Hosam Naoum, Anglican Archbishop of Jerusalem, echoed Rickel's sentiments, "I'm incredibly grateful for all John has accomplished in his ministry as Executive Director of AFEDJ. Despite the many difficulties we face – most recently the pandemic – he has passionately persevered in his support of our many ministries in the Diocese of Jerusalem. While I am sad that he is retiring, I know that he will continue as a good ambassador for our work in the Holy Land."
A Search Committee, chaired by AFEDJ Trustee Endicott Peabody of Scottsdale, Arizona, has begun the process to name Lent's successor. AFEDJ hopes to announce a new executive director by late summer.
An Executive Director position announcement may be found here.