Archbishop Naoum asks for support for those affected by the earthquake
February 13, 2023- Posted in Syria
Since February 5 when the first news of the disastrous earthquake in Central Turkey and Northern Syria arrived, we have been watching with great sadness the destruction across the region and the rescue and relief efforts.
The effects of the earthquake were felt far from the epicenter. Archdeacon Imad Zoorob, head of St. Luke's Rehabilitation Center in Beirut, sent video of light fixtures rattling in this family's fifth floor apartment. Dua'a Bisharat, director of Saviour's School in Jordan, said she thought she awoke with a dizzy spell before she realized it was an earthquake.
However, not all areas of the Episcopal Diocese of Jerusalem were so fortunate to avoid the devastation.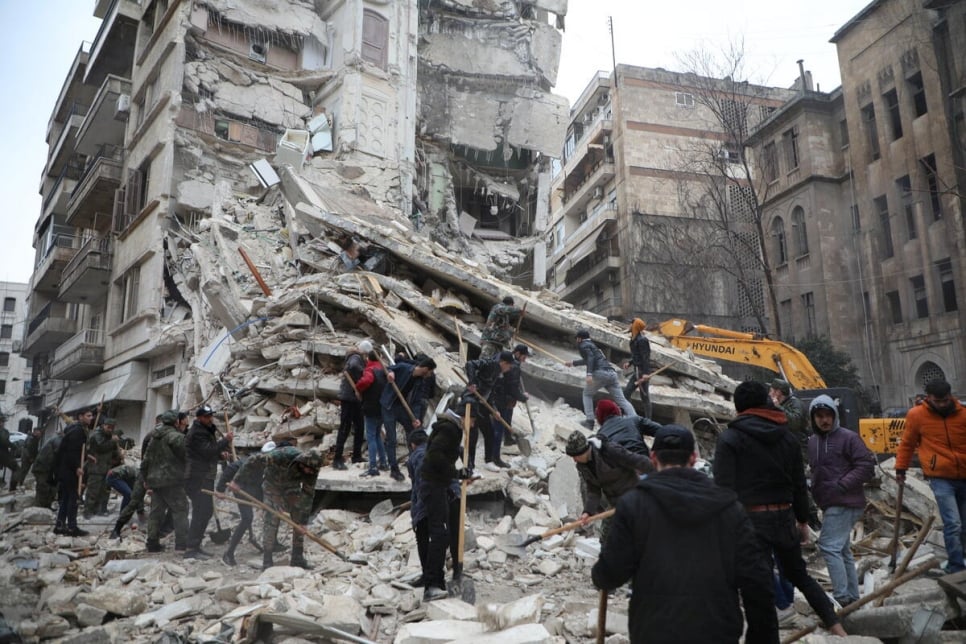 Archbishop Hosam Naoum said in a statement on Wednesday, February 8, "The reports from northern Syria—a region that falls within the Diocese of Jerusalem—are especially dire. Because the territory is largely inhabited by refugees fleeing an eleven-year civil war, the situation there is literally "an emergency within an emergency," as one of the local victims put it. That very war has made it particularly difficult for relief to reach those whose need is most desperate. Thankfully, through our Diocesan church network, which was not directly affected by the earthquake, we have the ability to channel such aid and relief to those victims."
The Rev. Canon Fa'eq Haddad, rector of Church of the Redeemer, Amman, will work on behalf of the Diocese in partnership with the Jordan Hashemite Charity Organization. With its well-established supply chain and convoy system, the Jordan Hashemite Charity Organization will allow all donations to American Friends to go directly and immediately to those affected in North Syria. As always, AFEDJ ensures 100 percent of funds designated for a specific purpose go directly to the intended institution or fund.
Archbishop Naoum added, "I invite you to join us in lifting up those affected in prayer, asking for God's healing, comfort, and strength upon them as they seek to survive the difficult days ahead."