Bearing Witness to launch in early 2023
November 2, 2022- Posted in AFEDJ, Bearing Witness
After many pandemic-related delays, AFEDJ's video-based study program provides a window into the remarkable witness of Christians in the Holy Land
AFEDJ's education program, Bearing Witness: A Journey with Holy Land Christians, is one the Episcopal Church has been calling for at regular intervals over the past 30 years. 
"Bearing Witness is an invitation to learn firsthand from Christians, Muslims, Jews in the Holy Land. We get to listen to them on their own terms and allow that listening and learning to transform us," said the Rev. Canon Nicholas Porter, an AFEDJ trustee and executive director of Jerusalem Peacebuilders. He added, "This program will help us recalibrate who we are as a church and as Christians and how we express that in our own ministries."
With help from individual supporters and a grant from the Constable Fund in partnership with the Standing Commission on World Mission, AFEDJ interviewed more than two dozen people in Palestine, Israel, and the US to capture a rich picture of the remarkable humanitarian ministries of the Diocese of Jerusalem and the political, social and economic realities and challenges that make the diocesan institutions vital to their communities.
Bearing Witness is designed for small groups meeting either in-person or online under the guidance of a trained facilitator . Each of the five sessions focus on an aspect Jesus's ministry – Belonging, Healing, Teaching, Breaking Barriers, and Building Hope.
The Most Rev. Hosam Naoum, Anglican Archbishop of Jerusalem, is featured in the first session that covers belonging and the many ways that religious, national and ethnic identities intersect in this complicated part of the world and the impact the Christian community has in the region. He said, "I am an Arab and Palestinian, and I am Christian at the same time. And that tells us a little bit about the complexity of identity within the area in which we live. Also, I am an Israeli, but not Jewish. And I am an Arab, but not Muslim. I am a Palestinian, but not a terrorist as some people would imagine." He continued, "We, as Christians in this part of the world have a tradition of keeping the Christian faith that goes back to the day of Pentecost. Through Bearing Witness I invite you to come and see. With this wonderful program we are bringing the Holy Land to you through our stories, through our many ministries."
Interested in learning more about Bearing Witness?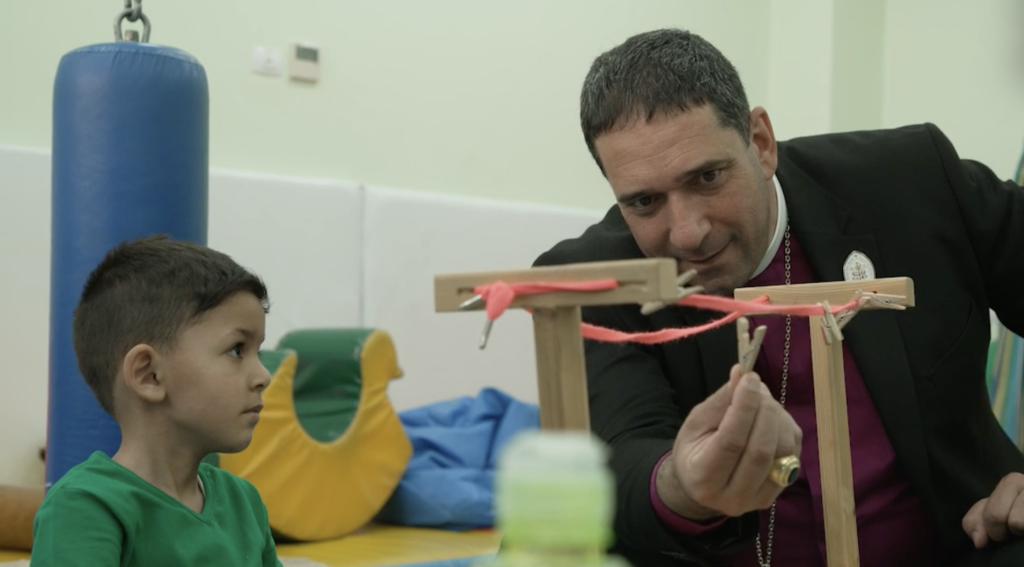 After a pilot program with a small number of churches in early 2023, AFEDJ will offer Bearing Witness to any church group that wishes to take part. We will provide facilitator training and support, videos, participant and facilitator guides, and background materials and resources – all available on our website at no charge and without a complicated registration process.