Church Leads Effort To Save St. Luke's Hospital In Nablus
February 4, 2019- Posted in Healthcare, Palestine, Supporters, West Bank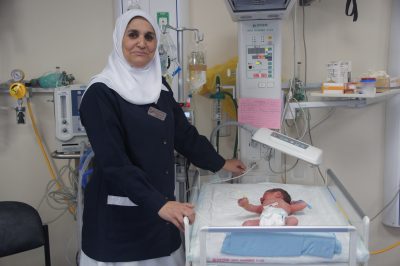 As the only charitable hospital in the West Bank city of Nablus (population 350,000), St. Luke's Hospital, which is owned and operated by the Episcopal Diocese of Jerusalem, depended on a fully-functional ambulance to offer safe transport of its patients. In 2017 alone, its 15 year-old vehicle made more than 2,100 emergency trips. However, last year constant breakdowns and disruptions of service required St. Luke's to divert calls to other providers. While this wasn't optimal, St. Luke's director, Dr. Walid Kerry, and rest of his staff adapted to the loss.
That status quo shifted in the fall of 2018 when Kerry was notified by the Palestinian Authority Ministry of Health that new annual accreditation standards required each full-service hospital to operate a functional ambulance. Without one, St. Luke's would lose its license to provide all medical services and be forced to close its doors. The price tag of $110,000 to purchase, convert, equip, and insure a new ambulance was out of reach for a hospital whose mission is to serve everyone who walks through its doors, irrespective of their religion, ethnicity, or ability to pay.
The need for the crucial health care service offered to the people of Nablus and surrounding communities together with the respect and good relationships Kerry has with Ministry of Health officials allowed St. Luke's to negotiate a reprieve and the deadline was moved until the end of February 2019.
Still $110,000 is a lot of money to raise in a short period of time.
Enter the Rev. Sari Ateek, a Palestinian-born Episcopal priest, and the Rev. Anne Derse, a newly-ordained Episcopal deacon, who serve at St. John's Episcopal Parish, Norwood, in Chevy Chase, Maryland. Working in partnership with the American Friends of the Episcopal Diocese of Jerusalem (AFEDJ), the two teamed up to raise $50,000 by appealing to other Washington, DC-area churches. By mid-January they had raised just over $83,000. Together with $27,000 raised by the Anglican Communion Fund in the UK, the goal was met and St. Luke's will remain open.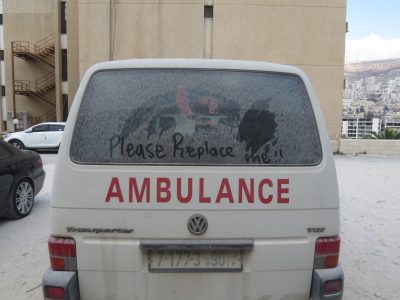 "When I first learned of St. Luke's urgent need for an ambulance and that the hospital's accreditation depended on it, I thought to myself 'this is a no-brainer!'" said Ateek. "We were nearing the Christmas season, and it felt like a profound opportunity to practice our faith by giving a Christmas gift that brings restoration and healing. It has been truly inspiring to see the outpouring of support and generosity from churches and individuals for this cause. We are grateful to be able to work with AFEDJ to make a very tangible difference in the lives of people in Nablus and the surrounding West Bank communities."
Derse, whose foreign service career culminated in serving as U.S. Ambassador to Ajerbaijan and Lithuania, said that St. John's commitment to St. Luke's Hospital was spurred, after members of the church visited the region on a pilgrimage in 2014. "After visiting we wanted to build a closer relationship with a humanitarian institution in the Diocese of Jerusalem and began to raise funds to pay one-half of a nurse's salary." When the church leaders heard about the need for the ambulance, the call to action was clear. Derse said the response from leaders in neighboring churches was immediate and clear. "All we had to do was ask. People wanted to do good."
Kerry, the physician who serves as director of St. Luke's, said, upon receiving word that the ambulance project was fully funded through the safe and transparent channels established by AFEDJ, "What great news to start the year with. It allows St. Luke's to stay as a witness of love and care for all in need."
Addtional coverage: Episcopal News Service, Episcopal Journal, Anglican Communion News Service.