CURRENT UPDATES
November 17, 2023- Posted in Diocese of Jerusalem, Gaza, Healthcare, Israel, Jerusalem, Jordan, Lebanon, Palestine, St. George's College, West Bank
Ahli Arab Hospital Faces Extreme Challenges Amidst Escalating Gaza Conflict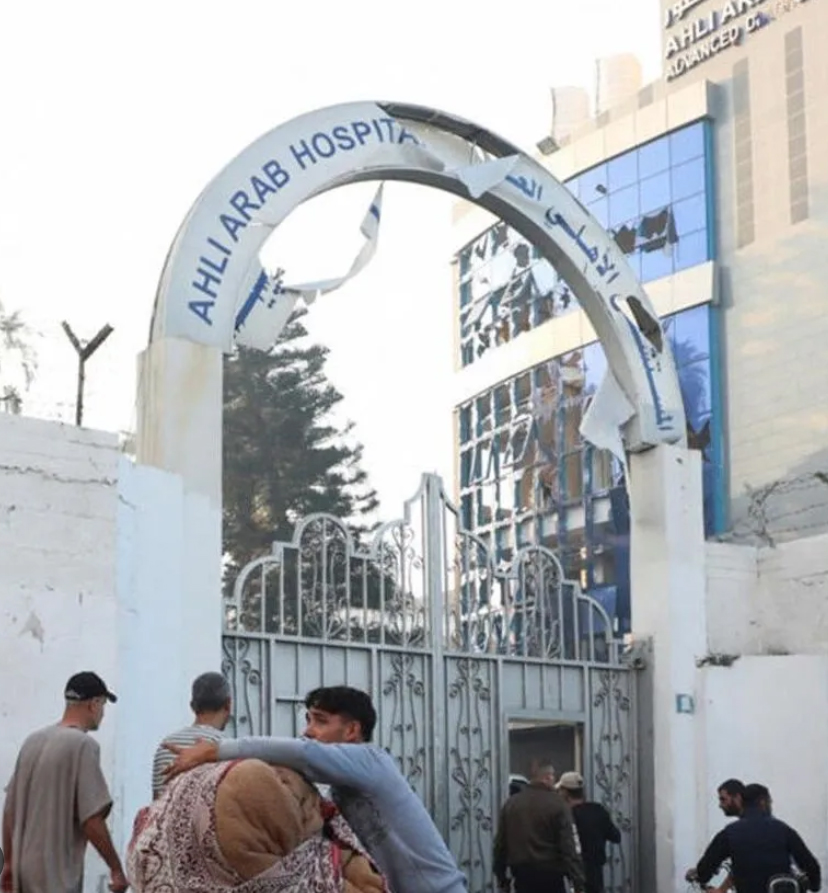 November 17, 2023 – As the conflict in Gaza unfolds, Ahli Arab Hospital remains at the forefront of the escalating crisis, providing care to current patients despite daily bombardments in Northern Gaza and critical resource shortages. The situation, as of today, is dire, and the Ahli Hospital team faces tremendous risks.
Fighting and shelling continues to plague the areas surrounding Ahli Arab Hospital, yet, the hospital persists in serving its existing patients. The medical staff courageously operates amid extreme, life-threatening circumstances, jeopardizing their lives for the sake of patient care.
Over-Taxed and Under-Resourced Ahli Arab Hospital operates at reduced capacity with increased needs. To address critical shortages of supplies, fuel, food, and medicine, the hospital has forged partnerships with the Palestine Red Crescent Society & The United Nations Relief and Works Agency for Palestine Refugees (UNRWA). However, the reliability of the supply chain remains a significant challenge.
Critical Supply Shortages and Military Presence According to a situation report from the Diocese of Jerusalem, Ahli is the sole functioning hospital in North Gaza. Due to the military presence outside, the hospital is currently unable to admit new cases. The situation on the ground is fluid, and information is challenging to verify.
Broader Impact on Diocese of Jerusalem Institutions The repercussions of the conflict extend beyond Ahli Arab Hospital, affecting all ministries of the Diocese of Jerusalem across the Holy Land, either directly or indirectly.
Border Closures and Unpredictable Travel Lead to Soaring Unemployment Rates and Economic Fallout Spikes in settler violence, ongoing artillery exchanges between Gaza, Israel, and Lebanon, and border closures have made travel between Israel and the Occupied Territories of Palestine difficult to impossible. Because of this, Jerusalem, Israel, and the West Bank are grappling with sharply rising unemployment rates. Palestinian residents of the West Bank and East Jerusalem who work in Israeli firms, tourism, and related sectors are severely impacted, leading to furloughs that directly affect Diocese of Jerusalem schools, centers, and healthcare institutions.
Financial Strain on Families and Institutions Families are unable to cover the costs of school tuition and medical services. Due to the closure and separation of West Bank areas, income generated by Diocese of Jerusalem schools and health institutions has plummeted.
Holy Land Pilgrimages Put on Hold The suspension of Holy Land pilgrimages further compounds the economic challenges faced by Jerusalem and Ramallah. This results in a loss of income, both from guesthouses and St. George's College, which is crucial for bridging the financial gap in schools and health institutions.
In the face of these challenging circumstances, support and fundraising efforts are paramount to ensure the continued operation of vital diocesan institutions and the well-being of those affected in the Holy Land. As the situation evolves, AFEDJ will continue to provide accurate, relevant, mission-focused updates during the current crisis.
---
***As a nonsectarian, nonpolitical 501(c)(3) nonprofit, AFEDJ does not engage in explicitly political activities.
AFEDJ offers a resource list on our website of organizations that offer the opportunity to advocate on behalf of vulnerable and displaced people in the Middle East. You may find it here: https://afedj.org/resources/advocacy-organizations/