HEART TO HEART FROM JERUSALEM TO GAZA
August 11, 2023- Posted in Disabilities, Gaza, Healthcare, Jerusalem, Partners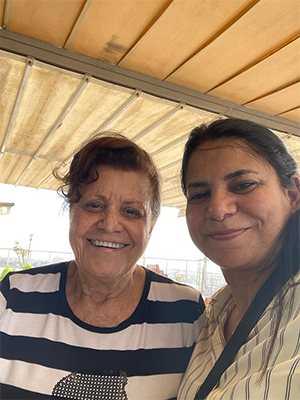 The Jerusalem Princess Basma Centre establishes its new rehabilitation satellite unit for children with disabilities at Al-Ahli Hospital in the Gaza Strip
In a groundbreaking act of collaboration between two of the institutions we support in the Diocese of Jerusalem, the Jerusalem Princess Basma Centre has embarked on a significant project to establish a satellite clinic operating at Al-Ahli Hospital in the heart of the Gaza Strip. This partnership is a promising step towards improving access to medical care and rehabilitation for Gazan families.
This initiative, aimed at improving the lives of children with disabilities, is a critical milestone in extending specialized rehabilitation services to the most vulnerable members of the community. The collaboration between the Jerusalem Princess Basma Centre and Al-Ahli Hospital will bring about positive change, meet critical needs, and bring much-needed, revitalized hope and access to Palestinian children and their families.
The Jerusalem Princess Basma Centre (JPBC), founded by the Episcopal Diocese of Jerusalem in 1965, supports Palestinian children with disabilities and their families through comprehensive rehabilitation and inclusive education.
"Every day we receive anxious calls from families in Gaza pleading w"Every day we receive anxious calls from families in Gaza pleading with us to help their child." — Dr. Waddah Malhees, Medical Director
THE CHALLENGE- ACCESSIBILITY
Each year JPBC's Child Rehabilitation Program supports more than 450 families from the West Bank and East Jerusalem through on-site, individualized, multi-disciplinary treatment of children with disabilities. Along with a parent, each child is admitted for a residential stay of 2-3 weeks. JPBC assists with travel permits and covers all costs not reimbursed by the Ministry of Health. But for similar Palestinian families from the Gaza Strip, with its chronic lack of support for children with disabilities, such opportunities and the permits required to travel to East Jerusalem are rare. In 2022, only ten Gazan families were able to enroll in the program. As Gazan children and families in need of services cannot go to JPBC, then JPBC will go to them.
THE SOLUTION – PARTNERSHIP
With the Al-Ahli Arab Hospital in Gaza City partnership underway, JPBC is creating a satellite unit to serve these vulnerable children by renovating a suite of unused rooms, engaging local specialists, training and supervising staff by its experienced experts at JPBC.
WITH GRATITUDE
Thanks to the generous support of the Campbell Family Foundation, JPBC developed a state-of-the-art Communications Hub that will allow for a high-speed, reliable connection between Gaza and Jerusalem. This Hub will promote collaboration and resource sharing, fostering cross-border unity for transformative advancements in healthcare.
YOUR GIFTS CHANGE LIVES
AFEDJ, our partners at JPBC, and Al-Ahli Hospital ask for your prayers and continued support as construction of JPBC's Gaza City satellite unit continues. Support AFEDJ and help us empower lives in the Holy Land. Donate today for lasting impact.