Institution Spotlight: Holy Land Institute For The Deaf – Salt, Jordan
April 3, 2019- Posted in Disabilities, Institution Spotlight, Jordan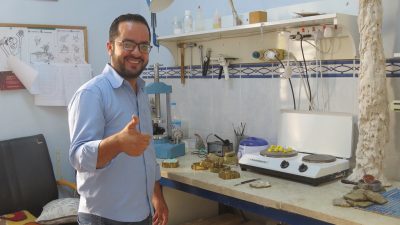 A safe haven of peace for 150 children and young people ages four to 25, the Holy Land Institute for the Deaf in Salt, Jordan, offers a full range of therapeutic services for hearing-impaired, deaf, and deaf-blind students and a K-12 academic boarding program. Each summer the Salt campus hosts training for teachers of hearing-impaired and deaf students from across the Middle East.
HLID also offers a community clinic to local residents, mobile outreach services to Syrian refugees living in three camps across Jordan, the Jofeh Community Rehabilitation Center in the Jordan Valley, and a clinic in Iraq. So far in 2019, its outreach services at community clinics and refugee camps have reached 984 patients for diagnosis, evaluation, and treatment. Another 2,976 people have benefited from community awareness training about people with disabilities and support services to parents of children with hearing impairment.
"We are the safety net for these children," explained Archdeacon Luay Haddad, director of HLID, pictured below with a local patient of the community clinic. "This is our ministry to the community. We cannot say 'No.'" In return for HLID's offer of a comprehensive education for hearing-impaired and deaf children, the Jordanian Ministry of Education covers the costs of each students' healthcare. "It's a win-win," Haddad said.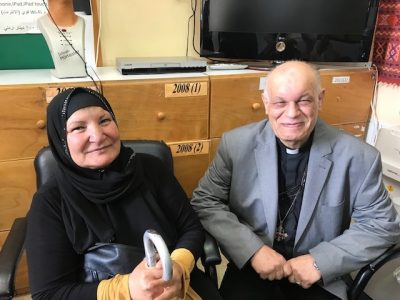 Yousef Rizik is the head of the Jofeh Center which, in addition to offering educational and vocational workshops in the Jordan Valley town of Jofeh, offers in-home therapy in 13 outlying villages to more than 100 patients who would otherwise not be served. Rizik observed, "We are the only Christians in this area and the only people doing this work."
While a number of HLID's graduates move on to post-secondary education, all are required to participate in vocational education as well. Offerings include carpentry, weaving, sewing, auto mechanics, and mosaics. Recent additions to the vocational program include barbering as well as hospitality and culinary arts in preparation for the opening of a "Sign and Dine" cafe to open in the Old English Evangelical Hospital building in downtown Salt.
With the exceptionally high rate of hearing-impairment found in the Jordanian population – estimated at 6 to 10 percent – the need for this work among affected children is crucial and the effect it has on students is life-changing. The leaders and teachers at HLID and its outreach ministries depend on the support from AFEDJ donors to offer a door to a bright, productive future for those they serve.
Pictured at top: After graduating from the Holy Land Institute for the Deaf, Fida studied audiology technology. In 2015 he returned to join the staff of the school's audiology department where he crafts individualized hearing devices for students, patients of the community clinics, and those served by mobile clinics in three Syrian refugee camps. Fida's wife Wijdan, also deaf, works as a teacher in the deaf-blind unit. They have two young, hearing children and also take care of Fida's sister and Wijdan's brother, both of whom are deaf students boarding at the school. HLID is not only a school and place to work but also becomes a family for members of its community.