On his first U.S. trip as Archbishop, the Most Rev. Hosam Naoum offers tidings of friendship and hope
October 20, 2021- Posted in Diocese of Jerusalem, Events, People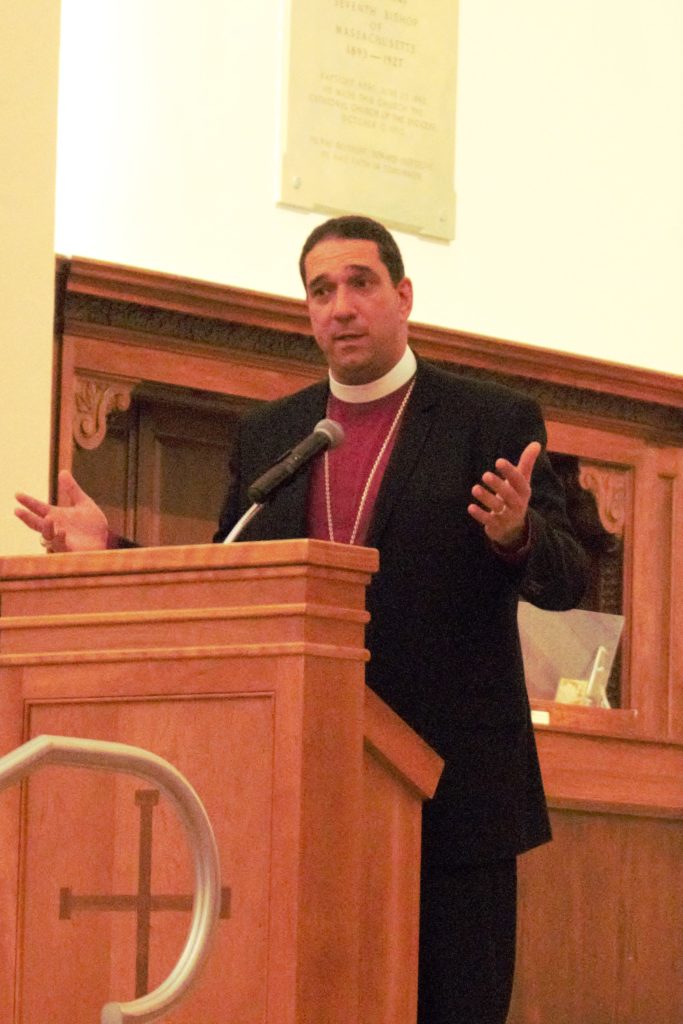 visit the gallery for more photos (Cathedral photos by Bridget Wood/Diocese of Massachusetts)
Nearly 100 American friends from the Diocese of Massachusetts and some traveling from as far away as California and Alabama, gathered at the Cathedral Church of St. Paul in Boston on October 14 to hear Archbishop Hosam Naoum talk about his vision for the Diocese of Jerusalem and the ties that bind us together in support of ministry in the Holy Land.
"One important thing about our friendship is that we are gathered together by something called love," he said. "The gift of Christ's love that has gone out from Jerusalem comes back to us in your support. It does not just go in one direction but goes out in all directions and unites everybody to that one place, Jerusalem.
"I am ever grateful for all of you, friends from the West Coast to the East Coast, from the North and the South who have given so much that helps the Diocese of Jerusalem continue to flourish, continue to do its mission and ministry in the place where it all began."
On October 15, Archbishop Naoum and his chaplain in Jerusalem, the Rev. Canon Don Binder, joined the AFEDJ board of trustees for a productive day-long meeting to discuss ways to strengthen and deepen the partnership between American Friends and the Diocese of Jerusalem under his leadership.
AFEDJ Chair, Bishop Greg Rickel of Olympia, said, "I am so grateful for this recent opportunity to meet with Archbishop Hosam in person early in his leadership. I believe he is the right person, in the right place, at the right time." He added, "The depth of our discussions about his vision for the Diocese of Jerusalem and the many ways we can strengthen our friendship as partners gives me great hope for the future."