Saviour's School: A Safe Haven For Empowering A "Can Do Generation" Of Girls
November 30, 2018- Posted in Education, Jordan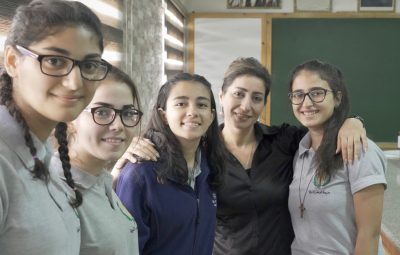 In Zarka, the second largest city in Jordan, the tensions and economic strain of a vast influx of Syrian refugees often cause families under financial stress to choose to educate their sons but pull their daughters from school.
But at Saviour's School, a K-12 school of 302 students operated by the Diocese of Jerusalem, General Director Dua'a Bisharat and her teachers work hard to keep the girls enrolled on track to graduate and take their place as equal members of society.
Recently Bisharet talked with us about the opportunities open to girls upon graduation, "Acceptance of women in the workforce is limited due to societal attitudes. With the lack of domestic helpers, public transportation, and a low minimum wage of 250 Jordanian Dinars a month ($360 USD), even educated women feel it makes more sense to stay at home and serve the family."
Earlier this year the World Bank's Global Gender Gap report ranked Jordan 51 out of 144 countries for educational attainment. Literacy rates are almost identical (99.8 for men, 99.7 for women), as is primary school enrollment at 98 percent for boys and 96 percent for girls. While enrollment of girls in secondary school falls off to 86 percent – to boys' 89 percent – girls perform better than boys in almost all subjects.
The report pinpoints the disconnect between high educational attainment and low socioeconomic power. Gender inequality emerges in Jordan's rank in economic participation and opportunity for women: 138 out of 144 countries studied. Jordanian women make up only 15.3 percent of the workforce. Traditional societal norms frown on women entering the workforce and participating in the political process. Women are encouraged to marry early and, if they do enter the workforce, to seek positions in sectors such as education and healthcare that are regarded as appropriate for women.
In a co-ed school like Saviour's, which currently enrolls 91 girls and 211 boys, the opportunity exists to teach girls and boys, from a very young age, to value a society where both genders enjoy equal access to education, employment, and economic and political opportunity. The rise in girls' aspirations and confidence will only be fully realized when their male classmates view them as equal partners.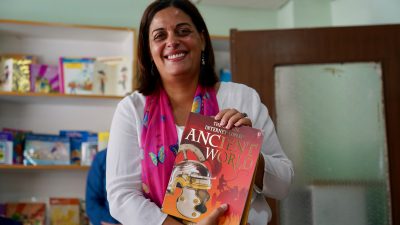 "We work extensively with our girl students to provide them with the kind of nurturing and encouragement a girl needs to become all that she can and wants to be in the future," Bisharat explained, "We give them the courage and experience in school to face the challenges ahead. They are the can-do generation, and we offer them the education which will allow their leadership skills and personalities to strengthen and blossom."
Christena, a junior at Saviour's, when asked about why getting a good education is important, replied, "It is important because a good education is the base for my success and the success of other girls within our society. It opens lots of opportunities for all, and is the basis for our future self-determination and independence." She added, "It sharpens our personal character and strengthens our positive attitude towards the world we live in."
Under the guidance of Dua'a Bisharat and the teachers at Saviour's School, even the youngest students have attained the confidence that the World Bank report suggests is necessary for women to take their equal place in society. Raneem, also a junior, dismissed the notion of inequality, "Boys and girls are treated the same at our school. There is no difference between us." When asked about her own aspirations, she said, "I want to study at the university and reach my goal to be a dentist."
Christena, on the other hand, hopes to become a language teacher, focusing on translation or media. Her appreciation for the education she has received at Saviour's is clear: "With God's will, the first report I want to make will be to tell the story of our school."
Over the years support from AFEDJ donors has allowed many students, through tuition scholarships, to avail themselves of the excellent education offered by Saviour's School. Making additional scholarship funds available for girls who might otherwise be denied a secondary education and the chance to thrive is an urgent need. Please consider an ongoing gift to allow more promising young women to benefit from an education that brightens their future and opens pathways to their contributions to the wider community.
---
How to help:
Provide a scholarship for one student for $2,500 per year
Underwrite books and uniforms for one student for $300 per year
Capital projects: Replace aging plumbing system; Construct a playground; Replace substandard classroom desks and chairs.