Students of all ages thrive at ETVTC
May 25, 2023- Posted in Education, Vocational Education, West Bank
The Episcopal Technological and Vocational Training Center in Ramallah: Not just for young people any more
In 2000 Giovanni Anbar recognized the need for vocational training opportunities for Palestinian secondary students who were not succeeding in the traditional academic track. Under the auspices of the Diocese of Jerusalem and Anbar's steady leadership Ramallah's Episcopal Vocational and Technological Training Center (ETVTC) has thrived. Juniors and seniors from Ramallah and neighboring villages enroll in a two-year Information Technology or Culinary Arts/Hospitality diploma programs.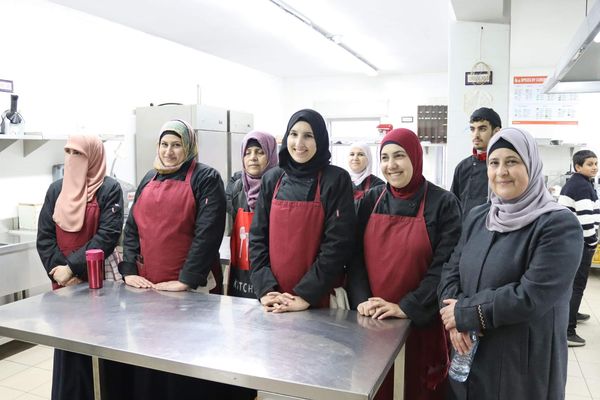 About five years ago, Anbar saw the need to offer programs for adults who struggled to find good-paying jobs amid the political and economic challenges they face in the West Bank. Currently ETVTC offers certificate programs approved by the Ministry of Labor for adults in culinary arts and mobile apps, including programs specifically designed for women entrepreneurs and incarcerated men.
Sisterhood Academy
In October 2022, ETVTC welcomed its third class of 36 women to the Sisterhood Academy, a six-month culinary arts and small-business training program for Palestinian women. For the first time, due to demand for the program, ETVTC offered two classes – one for women from Ramallah and surrounding villages and one from the northern West Bank city of Nablus. They will graduate from the program in May 2023.
Ahlam Hamid is a 42-year old mother of six children. Prior to enrolling in the Sisterhood Academy, Ahlam started her own home-based business called "Maria's Kitchen" offering home-made food and desserts for sale in her local community. After some time of working and cooking
at home, she decided to join the ETVTC course to acquire the knowledge and practical skills to increase her business's success.
In addition to the Sisterhood Academy, each year ETVTC offers a ten month, co-ed culinary arts program.
Mobile Application Program
Anmar Samour, a recent graduate of Palestine Technical University, enrolled in the ETVTC Mobile App Program to enhance her knowledge and to create her own application, an electronic library on Android. Anmar's main goal after successfully completing the course is to work for a tech company to gain more experience and then work as a freelancer.
Prisoner Culinary Arts Program
In the fall of 2022, after a two-year hiatus because of COVID, ETVTC resumed its partnership with the Palestinian Authority to offer a 60-hour course to prisoners at the Reform and Rehabilitation Center in Ramallah. In December 2022 12 men received a certificate in culinary arts and occupational safety to prepare them for the labor market upon their release. Anbar said he was recently approached by a man working in a local restaurant. Because only instructors are allowed in the prison, Anbar didn't recognize him but the man introduced himself as a graduate of the prisoner program and thanked him. "How gratifying to know that we have helped him create a new and productive life. It has big ripples throughout the community," Anbar said.