Journey to the Holy Land – January 18-29, 2020
June 26, 2019- Posted in Pilgrimage, Upcoming Pilgrimages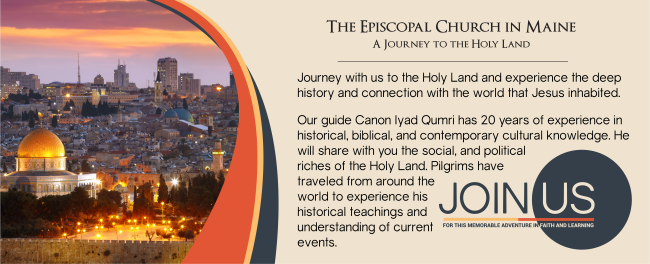 You are invited to join other pilgrims from the Episcopal Church in Maine and St. Paul's Episcopal Church in Brookline, MA as we walk in the footsteps of Jesus. The pilgrimage will be under the direction of the Rev. Thomas Mousin, spouse of Bishop Thomas Brown, and the Rev. Jeffrey Mello, rector of St. Paul's Church.
Visit the places of Jesus' birth, life, ministry, death, and resurrection. Our experienced personal guide Iyad Qumri, will lead us in exploring ancient places, vibrant markets, and modern museums in a land that is suspended between East and West, past and present.
If you are interested or have questions, please contact Tom at: tmousin@gmail.com or 802-380-8913.