They are not alone
October 18, 2018- Posted in Diocese of Jerusalem, People, Pilgrim Stories, Pilgrimage
by Endicott Peabody

A day following my return home to Arizona from Jerusalem, I am pretty jet-lagged and very tired but I am incredibly grateful for the opportunity to visit so many schools and hospitals in Jordan, Israel, the West Bank and Gaza. Every humanitarian institution in the Episcopal Diocese of Jerusalem is different in its scope and services. Every institution serves a broad, diverse population. What they have in common is their mission: To serve all people of the Holy Land regardless of their creed or their ethnicity. When they repeat Jesus' words "Love thy neighbor as thyself," they mean it, and they live it over and over every day.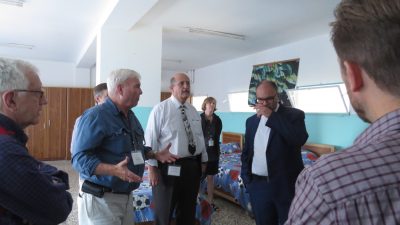 What particularly struck me on last week's visit by AFEDJ trustees to some 12 organizations their leaders' ability to cheerfully make do with what few tools and resources are available to them. I visited classrooms in Salt and Zarqa in Jordan and Ramallah, on the West Bank. They are all crowded, but they are also filled with cheery pictures and decorations and, most importantly, happy and enthusiastic students and teachers.
We visited hospital emergency and operating rooms in Nablus and Gaza. The facilities might seem to us sparse and outdated, but they are very clean and staffed with devoted and caring doctors and nurses. We also visited institutions for the deaf and disabled in East Jerusalem and in Amman and Jofeh, Jordan. We met those sainted people who work in these institutions. Again and again we were told what a privilege it is for them to work there. Not once did we hear a complaint or a curse, not once did we hear a plea for anything more than our prayers.
I am so grateful to be able to support these organizations, these people and their work, and for the privilege to meet them in person.
And I am especially grateful for the many generous and loyal donors who support AFEDJ and this work. Truly, the financial support we receive from so many caring and committed donors allows us to give these organizations and the thousands of people that they serve one HUGE gift: the gift of hope and the assurance that they are not alone, that there is a light way in the distance. Our donors offer tangible proof to our brothers and sisters in the Holy Land that many people genuinely care about them in a world that often seems to be filled with people who don't.
Cotty Peabody is a member of AFEDJ Board of Trustees and Chair of the Development Committee. He lives in Scottsdale, Arizona.