This Beautiful Work Transforms Lives
October 29, 2018- Posted in Disabilities, Jerusalem, Jordan, People, Pilgrim Stories, Pilgrimage
by Lisa Sams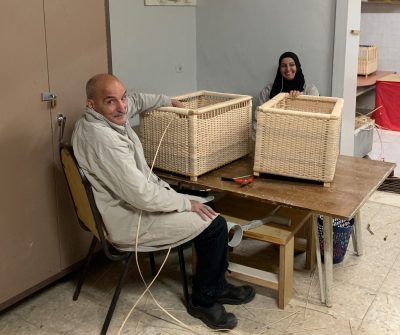 As a relatively new member of the AFEDJ Board, the October Board trip to Jordan, Palestine, and Israel was the first time I had seen many of the schools, hospitals and centers for the disabled run by the Episcopal Church in the Holy Land.
I was most struck by the beautiful care given to extremely disabled children. For example, I watched as teachers tenderly instructed deaf-blind students at the Holy Land Institute for the Deaf, and then as other students carefully escorted those same students to lunch, signing the mealtime prayers with them. At the Saviour's School in Zarka, a blind student made her way to class independently; another blind student said that his favorite part of school was being with all of his friends.
The Princess Basma center in Jerusalem was inspirational. There was a special room for helping autistic students adapt to stimuli and individual instruction for mothers in caring for their handicapped children.
We also visited three institutions with sheltered workshops where the disabled, including some mentally disabled adults, learn skills such as furniture-making, weaving, sewing, paper making, ceramics and embroidery. The workshop at the Holy Land Institute for the Deaf prepared whimsical furniture in primary colors for the renovated Kindergarten rooms at the Saviour's School.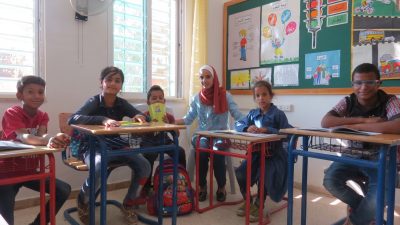 The teachers and therapists who staff these programs – many of whom are themselves blind or deaf – are true professionals. The children are receiving a level of care that is second to none. At the Jofeh Community Center, one of the sheltered workshops, there is so little money that many of the staff are working on a small stipend, essentially as volunteers, to keep the programs going.
The programs are also unique. It is clear that but for these institutions, some of the children would not be receiving an education. Indeed, some of the children have been rescued from situations that are abusive and are being cared for as full-time boarding students.
We can be proud and grateful that our church is supporting this beautiful work. The Diocese of Jerusalem is radically changing the lives of disabled children. These institutions are working on shoestring budgets and depend on you to stay open – thank you for your support, it truly transforms lives.
Lisa Sams is a member of the AFEDJ Board of Trustees. She lives in Bethesda, Maryland.