AHLI HOSPITAL TRAGEDY
October 17, 2023- Posted in Diocese of Jerusalem, Events, Gaza, Healthcare, Israel, Palestine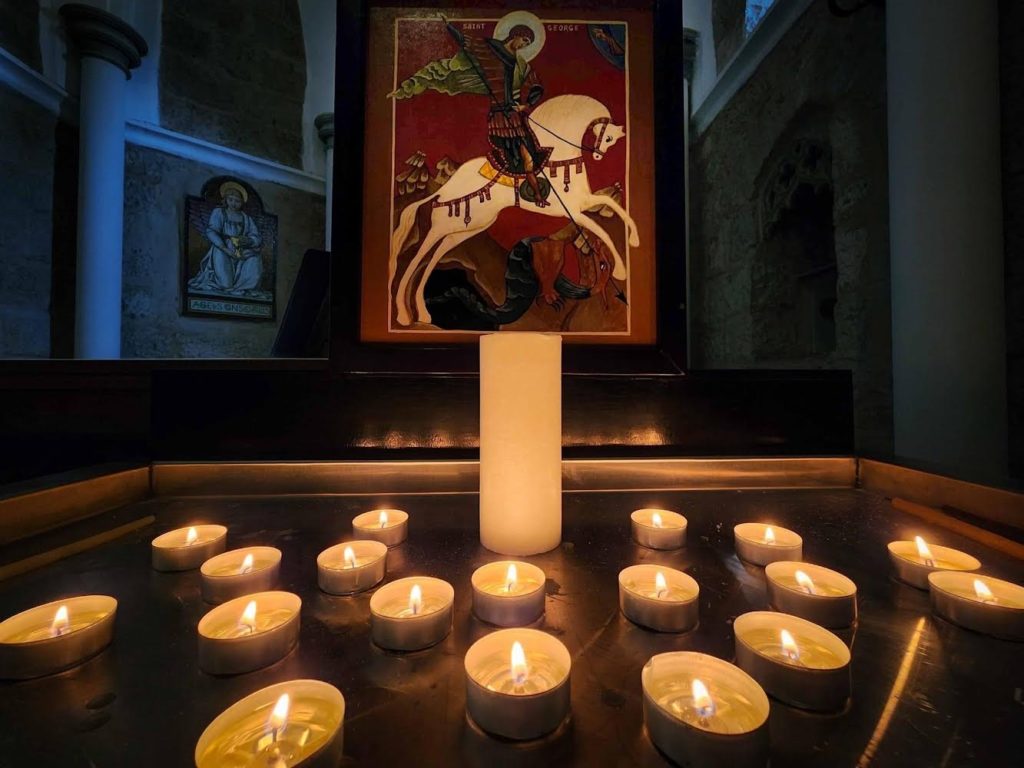 HUNDREDS KILLED IN OCT 17 BOMBING
October 19, 2023 – At the time of this writing, regretfully, AFEDJ does not have any information on the whereabouts of hospital staff or reports on their safety, nor do we know the extent of the damage to the infrastructure of the hospital. We do know that Director Suhaila Tarazi evacuated South before the attack, and is presumed safe. We will continue to offer updates as we receive confirmed information from the Diocese of Jerusalem.
Ahli Arab Hospital has become another tragic casualty of the Hamas-Israel conflict after suffering a critical attack by an incendiary missile of contested origin on the night of October 17. More than 400 civilians have been killed, according to the Ministry of Health, and others wounded, many of them children who were using Ahli's "safe sanctuary" as shelter and refuge.
AFEDJ acknowledges the sensitive nature of the details at the heart of this tragedy and the difficulty inherent in reporting on the events during this dark period of heightened emotions. As a non-political, non-sectarian organization, AFEDJ stands by our humanitarian mission and laments this catastrophe that has resulted in the loss of many innocent, civilian lives and caused untold suffering.
Whether a result of accident, failure, or targeted intention does not change the outcome for the victims of this atrocity. Ahli Hospital Director Suhaila Tarazi told AFEDJ "there are no winners in war" just eleven days ago when this conflict began. The carnage and scorched ground at Ahli Hospital serves as a haunting testament to her statement. With heavy hearts, AFEDJ joins the multitudes around the world grieving over this horrendous, senseless tragedy.
The unconscionable, merciless attack that claimed so many civilian lives occurred on the the same day that Archbishop Hosam Naoum, along with the Patriarchs and Heads of 13 Churches, set apart as a day of global fasting and prayer for peace and reconciliation in the Holy Land.
Only hours before the fateful bombing, the children who sought safe shelter at Ahli gathered together in the hospital's courtyard to sing for peace ("Salaam") in a moving moment of solidarity and joy amidst the darkness. Just hours later, many were likely killed in the bombing that took the lives of hundreds of innocents, an attack deemed "a crime against humanity" by Archbishop Hosam.
For current updates on Ahli Hospital or any of the many institutions served by AFEDJ in the areas of crisis during this time of conflict, please check our website regularly and click on the banner that says: "Press Resources." We will provide updates as they become available. At the time of this writing, we have confirmed that all of our other institutional partners throughout the Diocese of Jerusalem are as safe as they can be given the circumstances.
Important Resources:
Press Conference (10/18) with Archbishop Hosam and Heads of Churches in Jerusalem on Ahli Hospital Tragedy
OFFICIAL STATEMENT (10/18) from Patriarchs and Heads of Churches in Jerusalem Mourning Civilian Victims of the Massacre in Gaza and Extending Solidarity to the Episcopal Diocese of Jerusalem
Watch Bearing Witness Session 2: Healing: Interview with Ahli Hospital's Leaders, Suhaila Tarazi and Dr. Maher Ayyad; Hear directly from Ahli Hospital leadership as they tell the hospital's story and discuss the important community role Ahli Hospital holds in this heartfelt video, filmed on location in Gaza City. Find more Ahli Hospital "Bearing Witness" videos here. Contact Program Director Diana Branton at dbranton@afedj.org to learn how to share Bearing Witness with your community. Learn More about Bearing Witness here.
HOW YOU CAN HELP Secure donations to support Ahli Hospital may be made online or by check to AFEDJ, 25 Old Kings Highway North, Suite 13, Darien, CT, 06820. AFEDJ ensures that 100% of designated funds go directly to the specified institution. Also, please, PLEASE continue to pray for peace.
ABOUT AHLI HOSPITAL Founded in 1882, Ahli was a Baptist Medical Mission from 1954 to 1982, at which time operations were taken over by the Anglican Diocese of Jerusalem (1982-present). Ahli Arab Hospital is the oldest hospital and the only Christian hospital in Gaza. A humanitarian organization of the Episcopal Diocese of Jerusalem in the center of Gaza City, Ahli is a haven of peace and hope in one of the world's most troubled areas. Ahli adopts a rights-based approach and provides healthcare regardless of faith, gender, social class or political affiliation. In Arabic, its name means "The Arab People's Hospital."
Much more than "just a hospital," Ahli is a community resource. People from all backgrounds seek Ahli for refuge. When Gazans are desperate for care, sanctuary, aid, or even help with purchasing school supplies for their children, they turn to Ahli knowing that they will be greeted with compassion and empathy. Ahli Hospital extends their ministry of healing beyond their doors, educating and empowering women, providing free transportation for the poor to receive care, and psychosocial support for traumatized children affected by war on the border towns. Exemplifying what it means to "live the Gospel," Ahli is a sacred sanctuary, a beacon of hope, and a pillar of the community. Ahli is deeply respected throughout Gaza for the compassion, attention, and care they offer to Gaza's most vulnerable.
---
ABOUT AFEDJ: Founded in 1988 at the time of the first Intifada, American Friends of the Episcopal Diocese of Jerusalem (AFEDJ) is dedicated to raising financial support for the diocese's humanitarian ministries – schools, hospitals, and centers for children with disabilities – in Palestine, Israel, Jordan, and Lebanon and raising awareness about these powerful examples of Christian Witness in the Holy Land. A nonpolitical, nonsectarian 501(c)3 organization, AFEDJ's mission is to transform the lives of vulnerable and displaced people in the region. The values of equity, justice, and respect for the dignity of all are at the heart of their efforts. Learn more at www.afedj.org
Press Contact: Diana Branton, Director of Communications | American Friends of the Episcopal Diocese of Jerusalem | dbranton@afedj.org | 985.664.2973
---