Print resources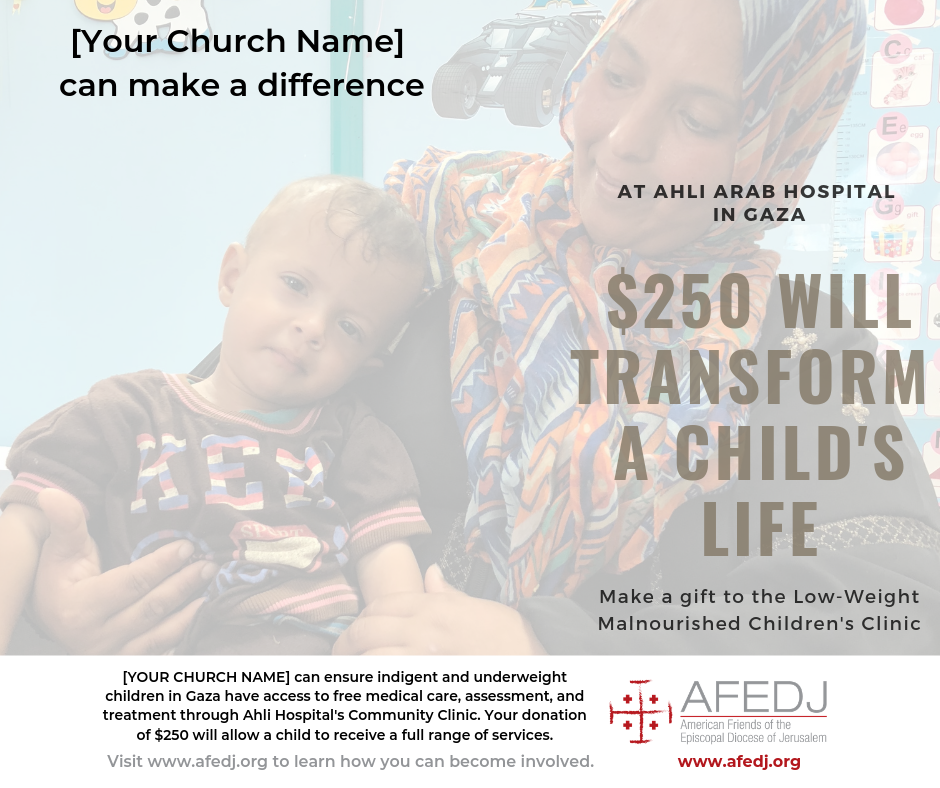 Customized Ahli Hospital fundraiser materials
Need resources to help your church hold a fundraiser for Ahli Arab Hospital's Low-Weight and Malnourished Children's Clinic?
Say no more! We will customize a variety of print resources with your church name and email the .pdfs and .pngs/.jpgs for your use to share and copy. Available for customization: (Click below for examples.)
Contact AFEDJ Communications Director Heidi Shott at hshott@afedj.org or 207.592.7353 to get started.
Interested in a fundraising event or campaign for other Diocese of Jerusalem institutions?

Please be in touch and we will work with you to create customized materials.
Institution Factsheets
Need information about a Diocese of Jerusalem school or hospital in one convenient document? Download a one-page pdf below.
Ahli Arab Hospital, Gaza
Arab Episcopal School, Irbid, Jordan
Arab Evangelical Episcopal School, Ramallah, West Bank
Christ Episcopal School, Nazareth, Israel
Episcopal Technological and Vocational Training Center, Ramallah, West Bank
Holy Land Institute for the Deaf, Salt, Jordan
Jofeh Community Rehabilitation Center, Jordan Valley, Jordan
Princess Basma Center for Disabled Children, East Jerusalem
Saviour's Episcopal School, Zarqa, Jordan
St. George's School, East Jerusalem
St. John's Episcopal School, Haifa, Israel
St. Luke's Center for Rehabilitation, Beirut, Lebanon
St. Luke's Hospital, Nablus, West Bank
Theodor Schneller School, Marka, Jordan
---
St. Nicholas Day Resources
AFEDJ invites you to support the children in our Holy Land by celebrating St. Nicholas Day (December 6th) with your congregation and family. Celebrating St. Nicholas Day is a tangible way to connect to the true spirit of the holidays by providing an educational, intergenerational, and fun experience for your family and congregation! Connect the spirit of St. Nicholas, a 4th century bishop in Turkey—the original Santa Claus—with children in the Holy Land today.
Explore our free and downloadable resources that make celebrating St. Nicholas Day fun and easy – crafts, games, hymns, pageants, coloring projects, and more!
For more: https://www.stnicholascenter.org/pages/home/
---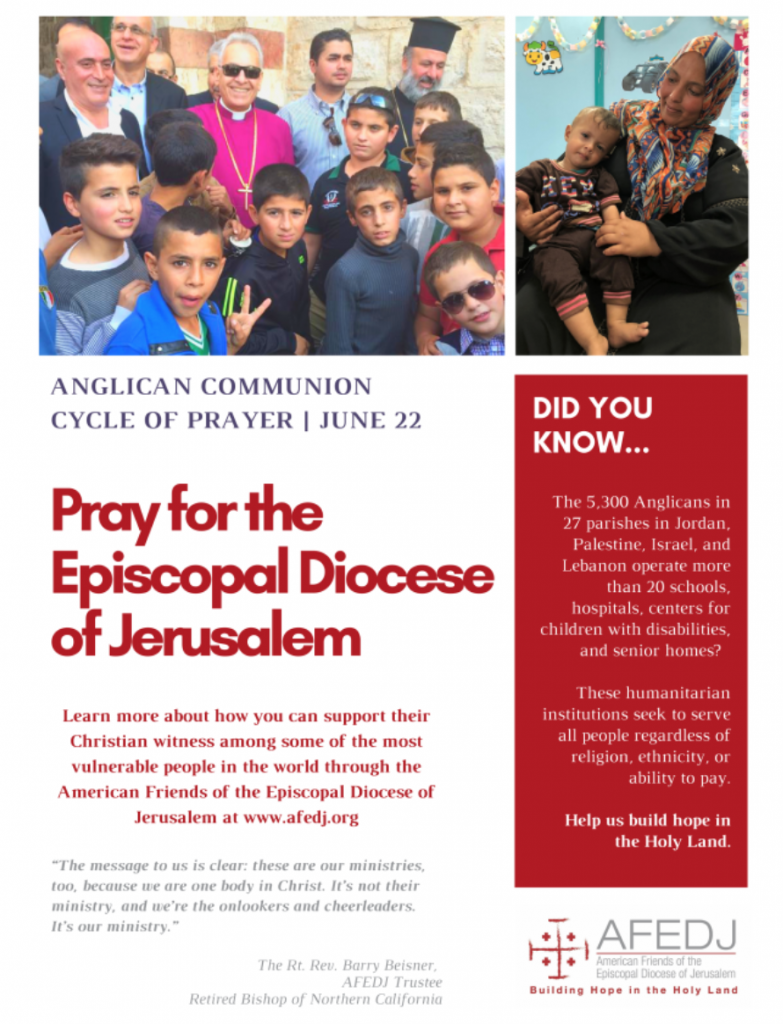 The Anglican Communion Cycle of Prayer marks June 22, as the day to pray for the Episcopal Diocese of Jerusalem. Join people from across the world in remembering our Christian sisters and brothers in the Holy Land and the ministries they engage in.
Download a bulletin insert or flyer to share with members of your congregation on the nearest Sunday.
Jerusalem Sunday is the Sunday closest to June 22. It will be June 20, 2021. Click here for print and digital resources to share.
---