St. George's School Offers Hope and a Future to Palestinian Young Men
November 4, 2018- Posted in Education, Jerusalem, People, Pilgrim Stories, Pilgrimage
by the Rev. Cn. Nicholas T. Porter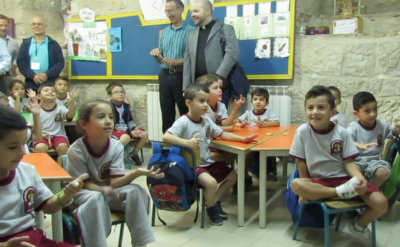 Our first morning in Jerusalem began with a visit to St. George's School. The sprawling school is an integral part of the St. George's Cathedral Close, and the sound of students announces the arrival of each new day. It is a celebrated school with many illustrious alumni; it is a school that bares the scars of occupation and conflict; and it is a school with a vital mission to young men.
The first classrooms that we saw were filled with lower school girls and boys. The spaces were bright and the teachers eager. Seeing young children happily studying and playing filled our hearts with warmth and hope.
The contrast to the lower school could not have been greater. "What is going on here?," several board members asked. My heart, too, filled with doubt. When we exited the school, I was glad to escape.Our tour eventually took us across the street to the all-boys high school, which, until recently, was all-boys. An eloquent introduction by the new principal and a lively conversation with a group of promising seniors were muted by the presence of hefty hall monitors and rowdy behavior in the classrooms.
Then against my will, I felt my heart strangely warming as I began to recognize a greater truth – the truth about the difficult and vital work of boys' education in East Jerusalem.
Israelis conquered East Jerusalem in June 1967. Fifty-one years of contested sovereignty have taken a severe social toll on its Palestinian residents, especially on Palestinian males.
Regular arrests, identity-card checks, public humiliation, and incarceration of men and boys disrupt lives, destroy self-esteem, and deny employment. The result is a crisis among Palestinian males in East Jerusalem about how and what it means to be man. Consequences of this documented crisis are skyrocketing rates of violence, depression, and drug use among teen-aged males, those – in turn – feed the viscous cycle of negative encounter with police and security forces.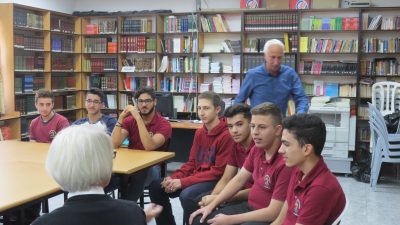 With few positive models and countless negative pressures, it is no wonder that hall monitors are necessary at the boys' high school. But among these at-risk young Palestinian men is exactly where hope, education, and productive life-skills are most needed. St. George's School is patiently, courageously doing this difficult work. It will take time, perhaps even a long time, but for the sake of peace and for the sacredness of life, the work must be done.
I am proud and inspired that the American Friends of the Episcopal Diocese of Jerusalem chooses to stand alongside St. George's School offering funding, prayers and emotional support. This partnership heals lives in the real world.
The Rev. Cn. Nicholas Porter is an AFEDJ trustee from Brattleboro, Vermont, and the founder of Jerusalem Peacebuilders.