A Greeting to the Diocese of Jerusalem Majma
December 4, 2018- Posted in Diocese of Jerusalem, People
In early November AFEDJ Trustee Endicott Peabody greeted the people of the Diocese of Jerusalem in Amman, Jordan, as they gathered for the annual Majma. Those present represented 29 congregations and 30 humanitarian institutions. Here's what he shared with our sisters and brothers of the diocese. Below Cotty is pictured with Archbishop Suheil Dawani.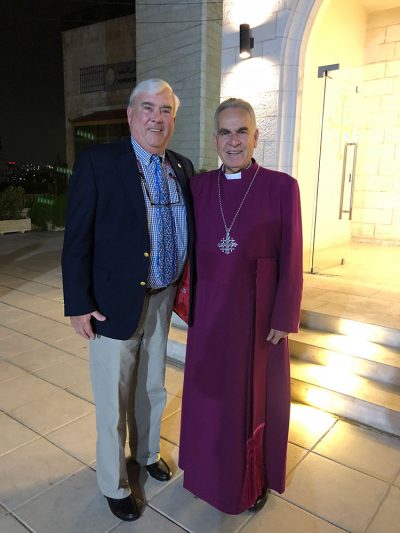 Dear Friends,
I am delighted to be with all of you at your Majma here in Amman. This is my third year in attendance, and I thank all of you and especially the Archbishop for his kind invitation. I bring you Greetings and Hope for Peace and Reconciliation from our chairman Bishop Barry Beisner and from the entire Board of Trustees of AFEDJ.
Many of you will recall that the board of Trustees travelled here just a few weeks ago. We visited many of you at The Diocese's schools and hospitals here in Jordan, in Jerusalem, in The West Bank, Israel and Gaza. I wish to thank you all for the gracious and warm welcome you gave us and for the opportunity to again see the wonderful work you all are doing, especially now, in the face of severe cutbacks in aid through UNRWA and direct support of the East Jerusalem Hospital Network.
Although you are all in our hearts and in our prayers every day, our visits with you, either individually, or as a group, serve to remind us that this work does not stop or even slow with the loss of these grants or gifts. Indeed, your work intensifies as you seek to find new ways to make up for these cutbacks. I was particularly struck by the spirit of optimism and hope that I saw in your faces and heard in your words. I wondered why you were not as angry and frustrated as I felt. Over and over you smiled at me and softly said that anger and revenge are just what our enemies want from us. It never works or helps us to succeed. Rather, you told me that we must be stronger and resilient and let our enemies know that we are united in our mission. That Jesus' words to "love thy neighbor as thyself" are more than just words. They are the creed that drives our lives every single day!
Let me assure you that the American Friends has not wavered either. We have increased our donor communications and appeals for support to be certain that your situation is clear in their eyes. Your ministries are our ministries. All our work and efforts are in support of you and your mission.
We are building our staff in order to grow our financial support of your work. We recently hired a marvelous Director of Communications, Heidi Shott. Some of you had the pleasure to meet Heidi during our trip. She comes to us with a wealth of experience in the Episcopal Church and her presence is felt immediately. Mr. John Lent, whom you all know well, is now the Executive Director. With his leadership, our organization is moving purposefully in expanding our donor base and reaching out to new and larger sources of funding. Of course, we cannot do this alone and we are so pleased with the relationship we have forged with Hanna Theodorie. Our communications and fund raising efforts are now working together with the Diocese as a team and you have seen the results of this, most importantly through transformative gifts to Schneller School, Saviour's School, Holy Land Institute for the Deaf and Ahli Arab Hospital.
But we are not there yet. Our mutual efforts will improve as we continue to build our organizations and improve our lines of communication. Through trust, transparency and close collaboration we will grow our impact on the lives of people served by the Diocese of Jerusalem. In closing, let me thank you all again for the opportunity to be with you. It is a personal pleasure for me to see many old friends and to make new ones. American Friends was chartered 30 years ago in support of The Diocese of Jerusalem. So much has transpired in those few years, but our mission has not changed and our commitment to you has only strengthened.
Respectfully submitted,
Endicott Peabody
Trustee, American Friends of the Episcopal Diocese of Jerusalem