Q&A with Eileen Spencer 
November 1, 2022- Posted in People
Spencer will become AFEDJ's new executive director in December
After a thorough, thoughtful national search, Eileen Spencer joined AFEDJ as its Executive Director-Elect on September 6. She will work alongside John Lent, the current Executive Director, who will retire at the end of this year. Spencer will officially become Executive Director on December 1.
Eileen, a proven nonprofit leader with extensive experience in international philanthropy, comes to AFEDJ from Hope for New York where she was Vice President for Mobilization and Generosity. She previously held senior positions with a foundation focused on economic development in Haiti and with World Vision. Her work has focused on raising awareness and resources for critical needs among some of the world's most vulnerable people across the globe.
AFEDJ's Communication Director Heidi Shott
recently interviewed Spencer about her first impressions and what excites her about the future.
Q: When you first heard about this opportunity, what captured your attention?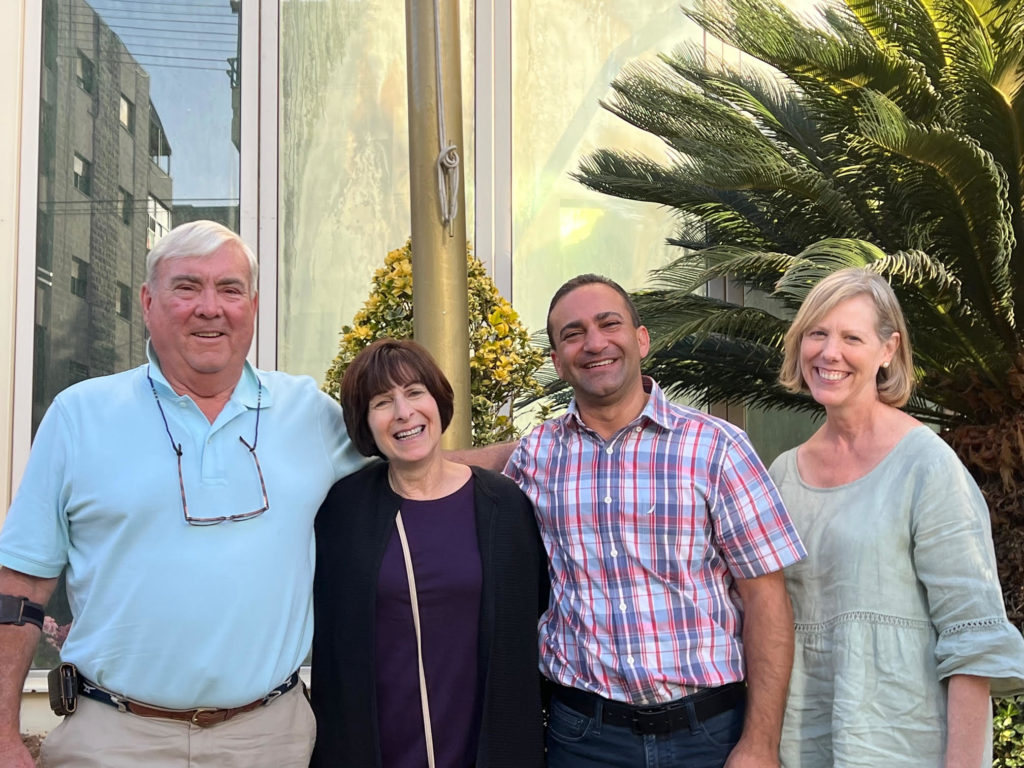 A: A priest friend heard about the Executive Director position and said, 'I think this sounds like something you would love. Maybe it's something you should look into.' I found that there were several things about this work that resonated with me. First is the connection with the Episcopal Church. For me, as a long-time active Episcopalian, this was like coming home. I've always known of the important work that the Episcopal Church does globally so this felt like a really good fit.
When I started to learn more about the actual work – that we were working on behalf of struggling and vulnerable children and families – that was a turning point for me. Then learning about the organization, that it's small but poised for growth. I'm always drawn back to a smaller organization to lend value in helping it grow. Finally, when I met some of the key players – staff and trustees – who are so passionate about the mission. I find it so refreshing to be around board members who want to be active and really get their hands on the work and be engaged.
Q: With so many ways to be involved in the nonprofit sphere, what has drawn you to international work that focuses on the welfare of children and families?
A: I started as the director of a Ronald McDonald house – which was local, right? – but it was focused on serving critically ill children and their families. Ever since, throughout my career, children have always had a special place in my heart, and my faith is really what fuels that passion. And we know from the Gospels that Jesus had a great love for children and the poor. I believe that each of us is obligated to use the gifts God has given us to serve those in need.
The very first trip l led for my church was to take a group of dentists and doctors to serve in a clinic in Honduras. As we drove up to the clinic, we passed a huge garbage dump. Everyone in the van was complaining about how they were going to have to walk up a hill to the clinic in the rain. They were going to get soaking wet. They were hungry. No one else noticed the little girl I saw standing on top of garbage dump collecting rainwater spilling off the piles of trash and drinking it. The imbalance in that moment seemed wrong to me. It seemed like something we could address. That was a turning point for me. That was probably 30 years ago, and I remember it like it was yesterday.
Q: The core of AFEDJ's mission is to raise funds to support schools and hospitals. We don't offer direct services or develop programs or provide technical assistance. We raise awareness about need and then work to raise funds to meet that need. What is your theology of fundraising?
A: I've thought about that question a lot! No matter where I think I'm headed, I always end up back in fundraising. I don't say this lightly: Fundraising is a ministry in itself. It's about marrying supporters with those in need, but it's also for making space for transformation for both the beneficiaries and the donors. I've seen that transformation in donors again and again.
When you can connect someone's passion to a project that makes a difference in people's lives and it sets them on fire. That's exciting! That's one of the things I love about the work of AFEDJ. With this work, we don't have to dig around to see the impact. It's right there.
Q: Now that you've been on board for a month, what do you find most exciting about the future of American Friends?
A: There are a lot of things that excite me about this work. First, I'm excited to grow the organization by raising more money to support this work and being laser focused on the needs of the Diocese. Second, I think it's important to go to some of the hardest places in the world, places where hope is sometimes in short supply. Jesus is already there. We just need to show up and do the work, do whatever we can do to bring hope and healing. I still have so much to learn but I'm thrilled about our October trip to the diocese with our trustees. The opportunity to visit 11 institutions and meet their leaders and to gather our trustees, staff, and Archbishop Hosam Naoum just one month into my tenure is perfect. I'm already excited about this work, but what a great opportunity to deepen attachments because, ultimately, American Friends is about building relationships.
Say hello to Eileen at espencer@afedj.org or 914.924.9704. She would love to hear from you!